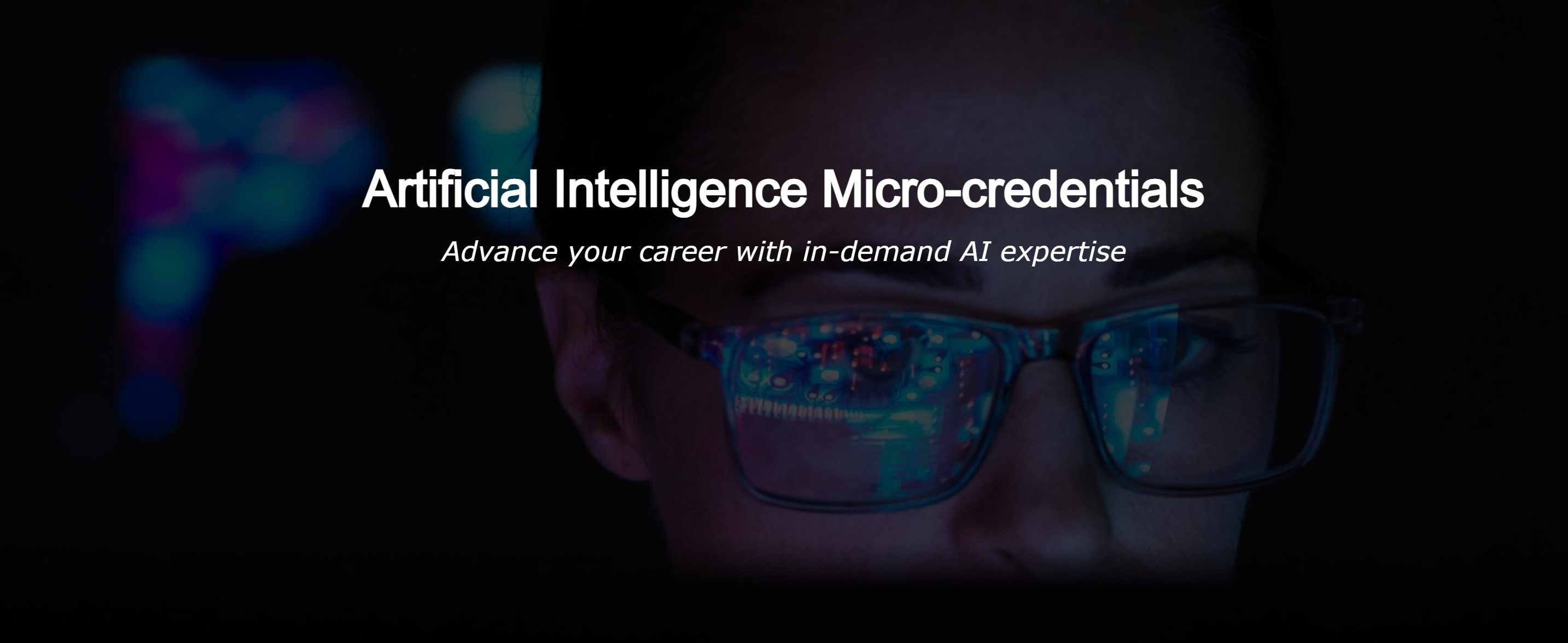 Artificial Intelligence Micro-credentials
Join the AI Revolution
According to Forbes, 97 million jobs related to artificial intelligence (AI) will be created between 2022 and 2025. AI is revolutionizing hundreds of industries, and AI skills are some of the most in-demand job skills in today's tech-driven market. Purdue's AI Micro-credentials Program offers quick and convenient online courses that cover the fundamentals of artificial intelligence and its applications. With an average completion time of only 15 hours, this program is an ideal upskilling opportunity for professionals who want to advance in their careers quickly.
Learn Essential AI Skills, including: 
Understanding the current applications of AI and where the field is heading.

 

How to utilize AI technologies in a variety of organizational contexts through completing real-world projects.

 

How to amass a robust AI skillset and build marketable expertise in emergent technologies. 

 
15
hours Average Time to Complete Course
REQUEST INFORMATION
Customize your studies to fit your career goals 
Every course in the AI Micro-credentials program functions as its own mini-credential, and students earn a certificate for every course they complete. Students can pick and choose what courses to take and stack credentials in topics that interest them. The flexibility of this program makes it an ideal upskilling opportunity for tech professionals.
Explore Our 100% Online Courses
Foundational - Technical Courses
Learning Outcome: This course provides a foundation for understanding machine learning and its applications by taking a learn-by-doing approach. Students will learn about machine learning by training a regression model to perform data analysis. 
Faculty: Staff 
Learning Outcome: Students will work through real-world problems and examples to understand the mathematical background for AI. By breaking concepts down and putting them in context, this course makes the math behind AI accessible for a wider audience.  
Faculty: Philip E. Paré and Shreyas Sundaram  
Learning Outcome: This course provides in-depth conceptual explanation of supervised and unsupervised machine learning algorithms and how to implement them to address real-world problems.  
Faculty: Rishikesh P Fulari
Learning Outcome: In this course, students will be able to explore data mining hands-on by using data mining tools for pattern recognition, visualization, artificial intelligence and more.  
Faculty: John Springer  
Applied - Technical Courses
Foundational - Non-Technical Courses
Learning Outcome: This course provides students with the real-world knowledge they need to navigate the risks of AI and how it's changing the technology landscape. Students will break AI down into engaging, accessible concepts and explore the ethics of AI through real-world examples.  
Faculty: David Peterson 
Learning Outcome: This course explores the ethical and regulatory framework that underpin AI. Students will analyze real-world policy and governance strategies that seek to manage AI's impacts and engage in debates that will shape the future of the field.  
Faculty: no faculty listed  
Learning Outcome: This course covers the growing global demands for AI regulations and puts them in context so students can understand what risks these regulations seek to address and how companies and governments can anticipate and comply with them.  
Faculty: Dr. Swati Srivastava 
Learning Outcome: This course covers the foundations of data visualization and teaches students how to craft compelling and persuasive data stories. Students will use data analysis and visualization principles to work through real-world projects.  
Faculty: Sorin Matei   
Artificial Intelligence Webinars
Join us for an exclusive look to explore the transformative power of artificial intelligence in various industries! Our cutting-edge webinar videos showcase the latest advancements and real-world applications of AI, catering to both tech enthusiasts and business professionals. Discover how AI is reshaping healthcare, finance, manufacturing, and more, as industry experts share their insights and experiences.