Online Professional Development
What is Professional Development?
Are you looking to upskill quickly? Purdue University Online offers professional and skill-based development courses that can give you the training you need in a shorter time-frame than traditional academic programs. Explore our non-credit classes and take one small step toward advancing your skills.
What's In It For You?
Professional Development at Purdue can open new doors. Learn skills that match your career goals by taking courses from world-renowned faculty and industry professionals. Our professional courses and certificates are optimized to help you absorb and keep your skills long after you've finished your course(s). With Purdue, get world-class education in topics like project management, cyber security, agriculture, analytics and more — all 100% online.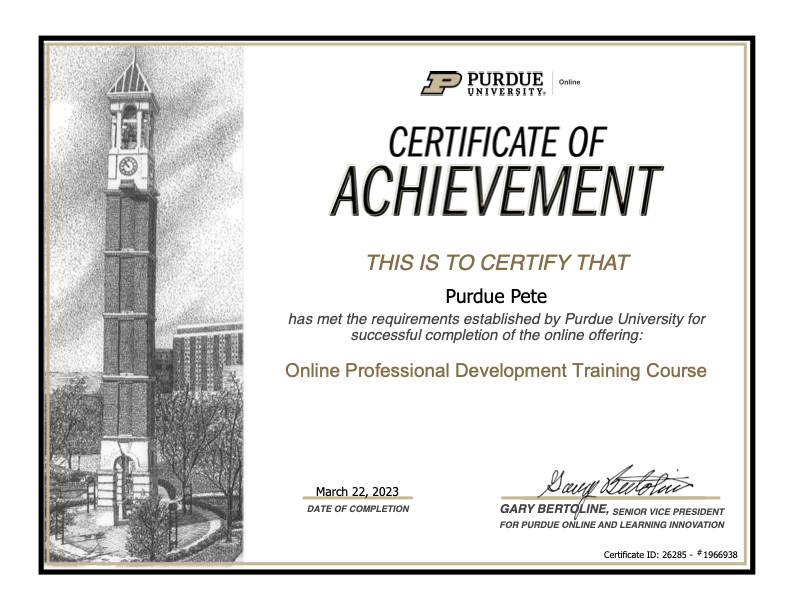 How Do I Get Started?
Explore our comprehensive Professional Development Catalog. Each of our programs are designed with you in mind and are optimized to make learning job-ready skills convenient and accessible. Some programs require multiple courses. You have the option of registering course-by-course or enrolling in the entire program. Most of Purdue's professional development programs can be completed in as little as one or two terms. 
Registration is as simple as adding your program to the registration cart and checking out. Payment must be received before courses begin. You'll receive confirmation of payment and enrollment in your email when the process is complete. 
Federal Government Employees follow these registration instructions.
Student Resources
Using Brightspace
To access your content, please visit the Brightspace Login Page and click on the "Online Corporate and Noncredit" section. You will log in with your username (The email address you provided when you signed up for the course) and a password, which you will need to create using the directions below. 
Select the ONLINE CORPORATE AND NONCREDIT log-in tile, if not done so already 

 

Select "Forgot your Password"

 

Enter Username (the email address you previously provided)

Click "Submit"

 

A message will be sent to your email address allowing you to set up your password

 
Once you have accessed your course, make sure to look for the content section within the course to access your coursework.